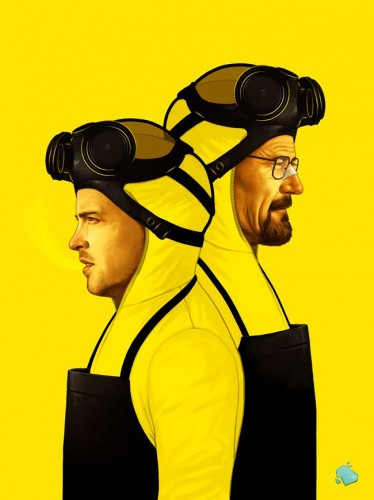 Ich bin nicht der ultimative Ueberfan was Breaking Bad angeht, aber als ich mir am Wochenende nochmal die ersten acht Folgen der fuenften Staffel (und das ultra gute Finale der vierten) anschaute hab ich wieder gemerkt wie gut die Show auch einfach ist. Besonders auch aus handwerklicher Sicht. Richtig, mich fasziniert nicht nur die Story, sondern auch die Kameraarbeit und natuerlich der Soundtrack.
Als erstes kommt mir da die Montage zu Crystal Blue Persuasion in den Sinn:
Ich habe dann (leider vergblich) direkt geschaut, ob man nicht irgendwo einen Soundtrack kaufen kann, kam aber zu keinem Ergebnis.
Und jetzt gehe ich meinen Feedreader durch und finde auf Nerdcore folgendes: The Sounds of Science – Breaking Bad Tribute Mix. Und dabei handelt es sich um einen 105 minuetigen Mega-Mix des Soundtracks gestreut mit Zitaten der Show. Fuck yea, Science Internet!
(Hinter dem Quelle Link gibt's dann auch noch eine Tracklist)