Da die fuenfte Staffel schon vor der Tuer steht bedeutet das, dass die vierte Staffel nun auch legal und kaeuflich erwerbbar ist. Wie das bei den letzten Seasons auch schon der Fall war, hat man uns dem Amerikanischen Markt auch wieder eine Super-Mega-Special-Collectors-Edition spendiert, die ich mir, wie es auch schon bei den letzten Seasons der Fall war direkt zulegen musste.
Achso, ich spreche uebrigens von The Walking Dead.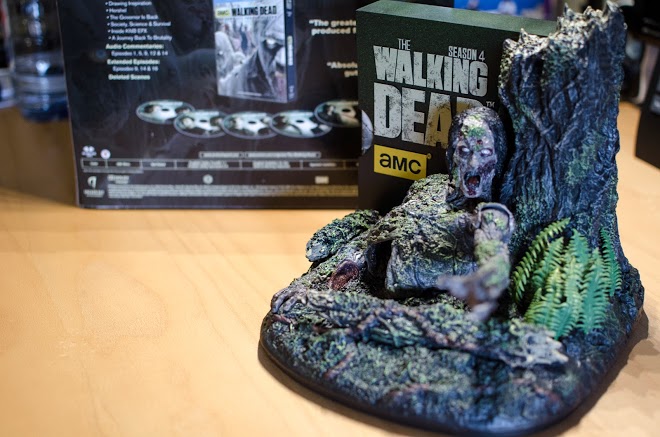 Die Limited Edition kommt zusammen mit einem schon fast Diorama, des Tree Walkers aus der Episode Isolation der Staffel. Sehr schoen ist auch hier wieder, dass die Unterbringung der Discs ordentlich in die Figur mit eingearbeitet wurde, sodass man Discs und Figur stets beisammen hat. Als kleinen Bonus kann man den Arm des Zombies noch durch das hineinschieben des Digipacks bewegen. Sehr cooles Detail, welches ich aber wohl nie nutzen werde, da ich die Discs grundsaetzlich nicht in der Vitrine aufbewahre. Naja, was soll's. Das Teil hat inklusive Zoll uebrigens um die 90 Euros gekostet und kann bei Amazon US immer noch zu dem Preis bestellt werden.
Hier noch ein paar Fotos mehr:
In moep0r Behind The Scenes stelle ich Stueck fuer Stueck die Schaetze meiner Film-/Videospiel-/Merchandise-/Nerdkram-Sammlung vor. Eine Uebersicht gibt es hier: Geek View.