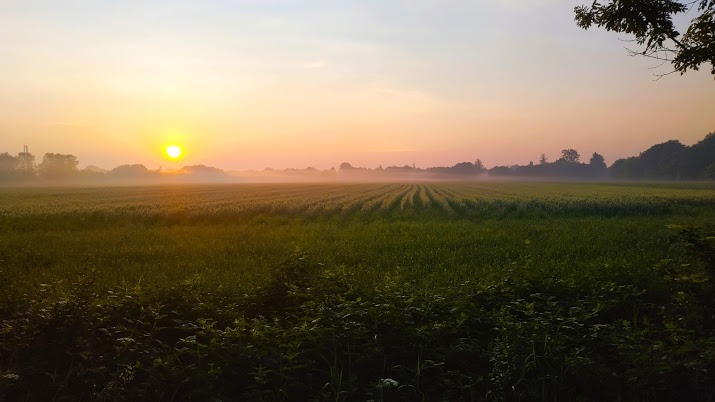 Jog around the blog [128]: The perks of being a Frühsportler
Gute Neuigkeiten: Der Motivationsschub von letzter Woche hält noch immer an. So sehr, dass ich heute seit Eeeeeeewigkeiten mal wieder mehr als 5 Kilometer in meiner Morgenrunde gelaufen bin.
Begonnen habe ich dennoch mit meiner Standardrunde, bin dann aber genau wie am Freitag noch weiter gelaufen und habe eine Runde um die naheliegenden Felder gedreht. Zwischendurch musste ich allerdings mehrfach Pause machen und die atemberaubende Landschaft fotografieren, denn der Morgentau hat sich dank der hohen Temperatur (irgendwas um 17°C) zu einer relativ dichten Nebeldecke gewandelt und waberte so vor sich hin.
Die aufgehende Sonne tränkte alles in einen goldenen Schimmer und somit rückte meine Laufaktivität auch immer mehr in den Hintergrund und wurde mehr und mehr Mittel zum Zweck, die Landschaft zu genießen. Absoluter Wahnsinn. Ich hoffe, das Wetter spielt die nächsten Tage auch weiterhin so toll mit.
Wenn ich mich bis Donnerstag nochmal aufraffen kann (was ich sollte, weil Feiertag), dann schaffe ich es im Mai vielleicht sogar noch auf 50 gelaufene Kilometer und reiße den Schnitt gar nicht allzu weit nach unten.
Auf die Ohren gab es mal wieder nur Musik.
https://twitter.com/moep0r/status/1001321035550154753